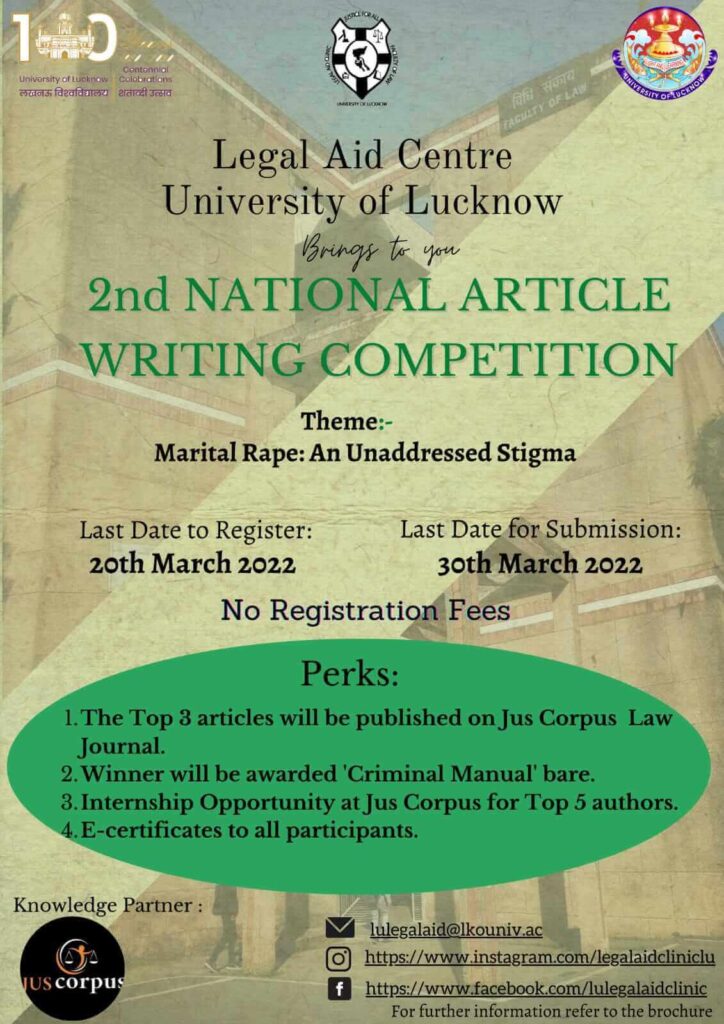 ABOUT THE UNIVERSITY
The University of Lucknow was established in 1867 and is one of India's oldest government-owned higher education institutions. It is affiliated with University Grants Commission (UGC); the Association of Commonwealth Universities (ACU), the Association of Indian Universities (AIU), and Distance Education Council (DEC).
The Faculty of Law, University of Lucknow has been a pioneering legal institution in India. It was founded in 1921 by three instructors. Mr. Jag Mohan Nath Chak was the first Head and Dean, moreover Prof. R.U. Singh was the true architect, who structured teaching and research at the faculty in a methodical manner with considerable fervour and enthusiasm. He served as the Dean of the Faculty of Law until 1956 and established the Faculty of Law, Delhi University in addition to the Faculty of Law, Banaras Hindu University. He holds the distinction of having authored Nepal's Constitution. With the efforts of these brilliant minds, the Faculty of Law, University of Lucknow has gained immense heights. 
ABOUT THE LEGAL AID CENTRE
Legal Aid Centre established at Faculty of Law, University of Lucknow is inspired by the determination to promote 'EQUAL ACCESS TO JUSTICE', and seeks to promote legal literacy, provide free legal service, create socially responsible citizens, and facilitate access to justice to the marginalized and deprived classes of the society. The workings of the Legal Aid Centre are in collaboration with District Legal Services Authority (DLSA), Lucknow as well as other Social Institutions and NGOs based in Lucknow. The Legal Aid Centre's awareness activities serve as catalysts for people with minimal legal understanding. Currently, centre is serving under the guidance of Dr. Ashish Kumar Srivastava and has been successful in achieving many of its endeavors.
ABOUT THE COMPETITION
Legal Aid Centre, at the Faculty of Law, University of Lucknow is organizing its Second National Article Writing Competition 2022. In 2019, the centre successfully held its first competition; this year, the centre is taking steps with an aim of creating awareness regarding marital rape and the encompassing difficulties. In an effort to promote the enthusiasm of young students, to come up with fresh ideas and solutions to understand contemporary legal disputes, the broad theme of the competition is reserved to social issue of marital rape in India which surrounds our nation.
ELIGIBILITY
Student pursuing any undergraduate or postgraduate degree in any discipline, from a recognised University/ College of India.
THEME
Marital Rape: An Unaddressed Stigma / वैवाहिक बलात्कार: एक अनसुना कलंक
SUB-THEMES: (ILLUSTRATIVE)
Constitutional Safeguards against marital rape / वैवाहिक बलात्कार के खिलाफ संवैधानिक सुरक्षा उपाय
Status of safeguards for women in Indian society/ भारतीय समाज में महिलाओं के लिए सुरक्षा उपायों की स्थिति
REGISTRATION PROCEDURE:
There is no registration fee to participate in the competition.
Students can register themselves by filling the Google Form by clicking on the given link:    
            https://forms.gle/fyfUWGiDM8j37L7h6
SUBMISSION GUIDELINES
The Article must be in either English or Hindi language and the submission shall be in PDF format
Co-authorship is allowed however is subject to a maximum of two authors. Submission of the co-authored article is to be done once only by either of the authors.
The word limit of the article should be 2000-2700 words, excluding footnotes.
The submission should be original, unpublished, and not under review with any similar platform. The submissions can have 15% plagiarism.
FORMATTING CRITERIA
Main Body: Font- Times New Roman (English) or Devanagari (Hindi), Font Size- 12, Line Spacing- 1.5, and Alignment- Justified.
Footnotes: Font- Time New Roman (English) or Devanagari (Hindi), Font Size- 10, Line Spacing- 1.5, and Alignment- Justified.
SUBMISSION PROCEDURE
REWARDS
The Top 3 articles will be published on Jus Corpus and a publication certificate will be provided to the authors. 
The Winner will get a criminal manual at their address. 
Internship Opportunity at Jus Corpus for Top 5
E-certificates of participation will be awarded to all participants who submit a valid submission in accordance with the Submission Guidelines outlined above.
BROCHURE:
Link for the brochure:  https://drive.google.com/file/d/1sA9ZRb9WknmKuuiRCLxbxvqhZscZHMX2/view?usp=drivesdk
IMPORTANT DATES
Last Date for Registration- 20th March, 2022 (11:59 PM)
Last Date for Submission- 30th March, 2022 (11:59 PM)
CONTACT DETAILS
Email- vidhiksewalu@gmail.com
Saurabh Rathore: 8127722768
Ashutosh Verma: 6394628303